Referral Special:
If you refer someone and they come in for a treatment, they will receive 20% off their treatment and you will receive 20% off the next treatment you have after theirs! Cannot be combined with other treatment specials.
This Month's Product Special:
Buy 3 or more Rhonda Allison and/or Face Reality products and get 20% off all products! (Cannot be combined with any other product special and does not apply to past purchases.)
Online Special:
Currently: Use code 15OFF to get 15% off online products!
WATCH FOR GIFT CARD SPECIALS AS BLACK FRIDAY & CYBER MONDAY NEAR!!! (some are already posted online!)
Services Specials:
Rezenerate Nanofacial – Introductory price: $105 NEW! (Regular price: $125)
This service includes double exfoliation, extractions, and Nano hydration infusion using top serums. Next we utilize a cooling/moisturizing sheet mask and a chilled Nanoglobe facial massage. The great ingredients further soak in under the red LED light therapy and the treatment is finished with excellent serum, moisture and sunscreen tailored to your skin's needs. All this results in clean plump skin.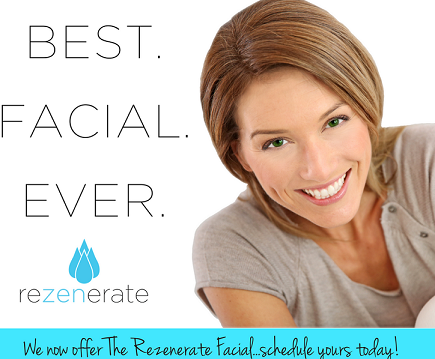 This treatment drastically reduces fine lines and leaves your skin feeling and looking younger. The Rezenerate painlessly creates hundreds of thousands of superficial microscopic permeations on the surface of the skin, leading to an immediate plumpness. It also allows for greater absorption of the nutrients introduced into the skin during treatment. This treatment is customized for each client, and is totally relaxing. This is a fabulous choice for someone who wants a truly corrective treatment without any downtime.
This month: Buy a package of 3 Rezenerate Nanofacials for $300! That's a savings of $75 overall!
Microneedling:
When you buy three individual treatments at regular price you get the fourth one for only $75! And there is no need to buy a package up front!

However, if you do want to buy a package, you will save $100 off that fourth treatment as it will only cost $50! So that is....
A package of four microneedling treatments for only $500 (that's a savings of $100!)
Schedule your microneedling session
Pumpkin Apple Facial - $55
A corrective facial packed full of nutritious pumpkin and rejuvenating apple wine extract, this is sure to generate results. Tightens and firms, infuses skin with potent antioxidant support and brightens skin tone for a beautiful, glowing polish and radiant skin that will last for weeks. Includes 1 layer Rhonda Allison Apple Wine Peel (can be left on after the facial if your choose for added benefit, or merely leave it on for part of the facial to still receive benefit but is not likely to result in peeling/dryness). ♦ 65 minutes